Original Art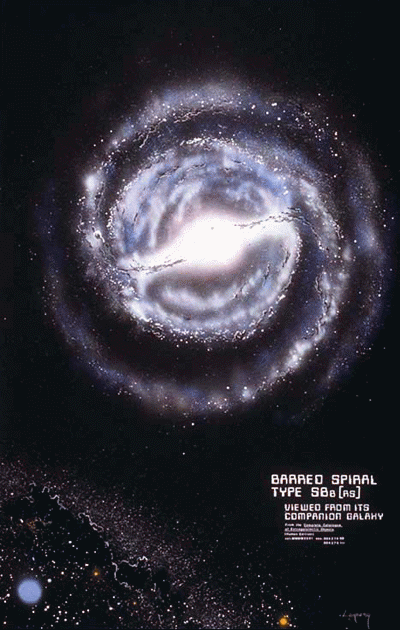 Barred Spiral Galaxy from Encyclopedia Galactica
From a series of paintings called "Encyclopedia Galactica", created in collaboration with Carl Sagan, who helped Jon Lomberg write the captions appearing on each painting. This project evolved into the episode/chapter in COSMOS of the same name. This series envisions entries in a compendium of civilizations and objects in the universe. Carl Sagan owned some of the paintings in this series, as does Frank Drake and the Arecibo Observatory.
The caption reads:

BARRED SPIRAL TYPE SBb(rs)
VIEWED FROM ITS COMPANION GALAXY
From the Complete Catalogue of Extraterrestrial Objects
(Human Edition)
vol.MMMMMXXVI
25" x 36", acrylic on illustration board and framed in silvered aluminum.
Signed by the artist.
To purchase this original art, the sales transaction must be processed manually. For assistance with placing your order, please contact us at lomberg@aloha.net.

All prices quoted in US dollars.
Copyright ©2010 Jon Lomberg. All Rights Reserved.