Giclee Prints
The titles featured in this gallery are available as Giclee prints. Giclee prints are digitally produced art, printed on canvas or paper using archival quality materials for many years of fade-free enjoyment. Paper offers a smooth finish while canvas is textured to appear similar to an actual painting. All Giclee prints are signed and have a minimum 2" white border on all sides.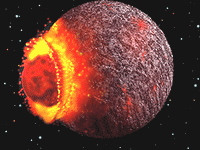 The Big Whack
A depiction of the collision of the early Earth with a Mars-sized object. The resulting debris eventually formed the Moon.
SKU DP-WHACK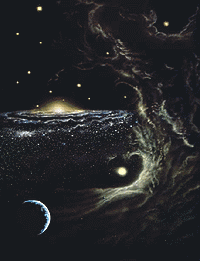 The Black Cloud
Our solar system is shown encountering a dark dust cloud in its orbit around the distant center of the galaxy.
SKU DP-BLKCL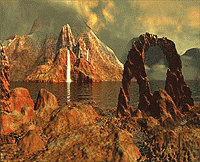 Titan
The surface of Saturn's largest moon forms various solid and liquid features on the surface.
SKU DP-TITAN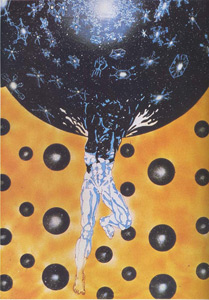 Infinite Regression
A concept painting for Carl Sagan's COSMOS TV series, illustrating the idea that our Universe might be just an atom in some higher Universe. The series of nested Universes might be infinite. This scene shows a human emerging from a crystalline Universe into another. Neither is our own. Budget constraints forced us to drop the sequence. But this painting has become one of the most popular of the paintings I did for COSMOS in my role as Chief Artist.
SKU DP-INFINITE


All prices quoted in US dollars.
Copyright ©2010 Jon Lomberg. All Rights Reserved.