Giclee Prints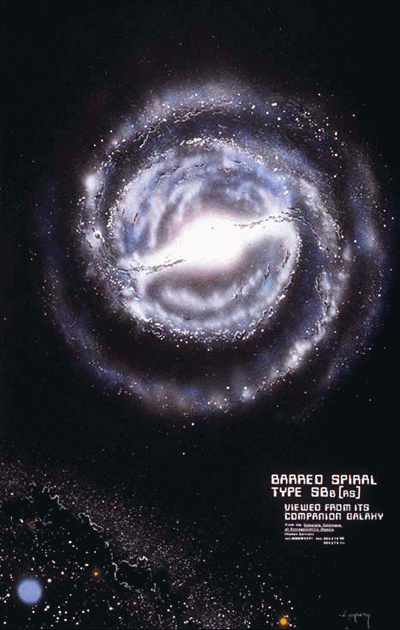 Barred Spiral Galaxy from Encyclopedia Galactica
From a series of paintings called "Encyclopedia Galactica", created in collaboration with Carl Sagan, who helped Jon Lomberg write the captions appearing on each painting. This project evolved into the episode/chapter in COSMOS of the same name. This series envisions entries in a compendium of civilizations and objects in the universe. Carl Sagan owned some of the paintings in this series, as does Frank Drake and the Arecibo Observatory.
The caption reads:

BARRED SPIRAL TYPE SBb(rs)
VIEWED FROM ITS COMPANION GALAXY
From the Complete Catalogue of Extraterrestrial Objects
(Human Edition)
vol.MMMMMXXVI
This title is available as a Giclee print. Giclee prints are digitally produced art, printed on canvas or paper using archival quality materials for many years of fade-free enjoyment. Paper offers a smooth finish while canvas is textured to appear similar to an actual painting. All Giclee prints are signed and have a minimum 2" white border on all sides.
Giclee print options:

All prices quoted in US dollars.
Copyright ©2010 Jon Lomberg. All Rights Reserved.